Eyram Norgbey, a Ghanaian graduate student of the College of Environment of Hohai University in the People's Republic of China has made Ghana proud by nabbing the prestigious Best Elevator Pitch Award of the Green Talents – International Forum for High Potentials in Sustainable Development.
Every year, the German Federal Ministry of Education and Research (BMBF) brings together young researchers from different countries and scientific research disciplines across the globe under the auspices of the Green Talent Initiative in Berlin where these minds of unspeakable ingenuity expound on their unique initiatives of making the world a better place through green technology and research to an audience and a jury of German experts. Outstanding 25 of these young talents are selected each year to be granted access to the Country's research community and copious research funding.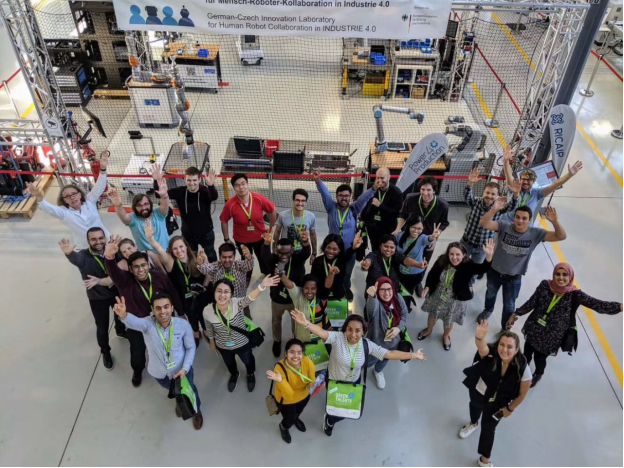 2019 Top 25 Green Talent Awardees visits the German-Czech Innovative Laboratory
The Initiative which debuted in 2009, celebrated its 10 years of promoting sustainable green research and innovations. To mark the 10th anniversary celebrations, 10 past winners of Green talent awards including Eyram Norgbey, a winner in 2017 were selected to pitch their research idea to an audience of international researchers and German experts. Albeit the stakes of the winner gaining fully-funded research stay in Germany being high, these 10 researchers of remarkable acumen from 8 different countries were given only 4 minutes to pitch their ideas to an audience who would later vote for the best pitch.
10 Best Elevator Pitch Nominees from 8 different countries
After an Electronic Voting by the audience, Eyram Norgbey whose research focuses on the use of waste lignin as a partial replacement of bitumen for sustainable roads was crowned the Best Elevator Pitch with a third of the total vote cast (33%). The second and third prize respectively went to Rachel Kelly (University of Tasmania, Australia) and Paula Araujo (Mamirauá Institute for Sustainable Development, Brazil). Eyram, Rachel and Paula will have the opportunity to develop their research in Germany which will be fully funded by the German Federal Ministry of Education and Research.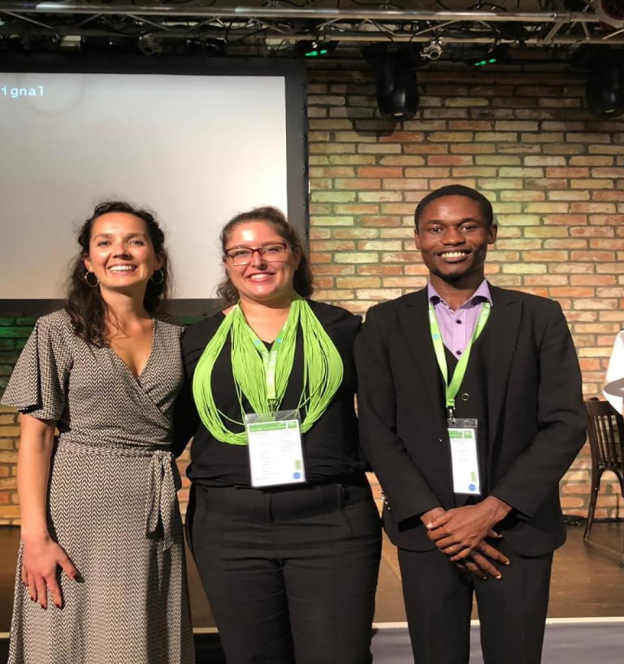 Paula (Left), Rachael (center) and Eyram (Right) wins top 3 Best Elevator Pitch Award
Interestingly, the award celebration hosted on October 27 was attended by his wife, Georgina Esi-Takyi Annan who also made it to this year's top 25 Green talents and their year-old daughter, Kayla Norgbey.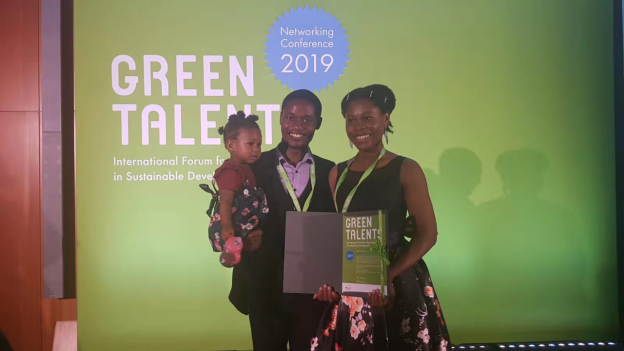 Georgina Esi-Takyi (Wife) and 1-year old Kayla (daughter) of Eyram Norgbey at the Awards Celebration
Georgina, a graduate student of South East University was awarded for her research: Green and sustainable design approach to achieving affordable housing in developing countries and West Africa, which seeks to adopt the best mechanism in constructing affordable yet environmentally friendly structures to narrow the infrastructure deficit in West Africa. Speaking on the potential impact of her research, a member of the jury said "this research help to raise awareness for sustainable architecture and also help to tackle some of the challenges that come with the implementation of green buildings".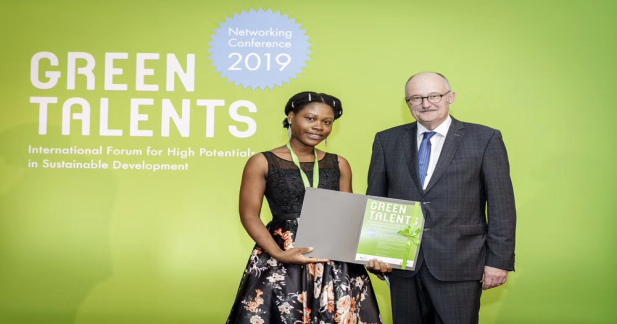 Georgina Esi-Takyi Annan, wins top 25 Green Talent Award in Berlin, Germany.
As part of the prize, her research will be fully-funded by Green Talent under the German Federal Ministry of Education and Research with the opportunity of furthering Postgraduate study in Germany.
Press Conference (left) and Presentation (right) of Eyram Norgbey in Berlin, German. Oct.27.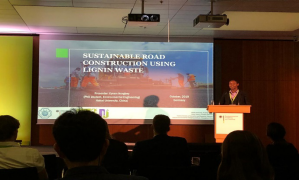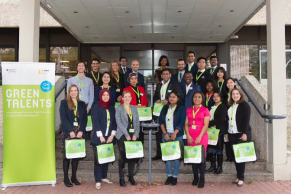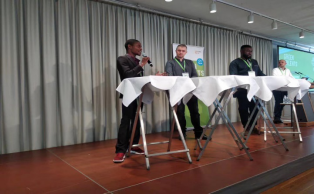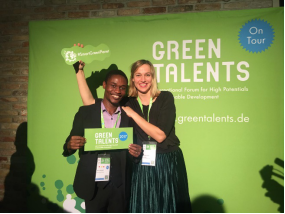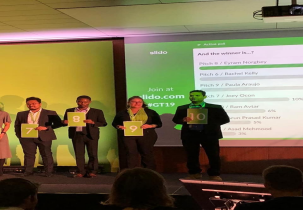 2019 Annual Green Talent Celebrations under the auspices of the German Federal Ministry of Education and Research
By: Bekoe Bernard Boamah